Apple



Image ©

Nanobit
Information
Type:
Ingredient
Source:
Apple Tree
Cost:
0
Client Value:
120
Total Needed for Mastery: 2039
Raw:
2039

Apple is a raw ingredient in Chef Town that can be harvested from apple trees. It is used in 12 recipes.
Sources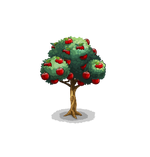 Crafting
Apple is not used in any crafting recipes
Recipes
Quests
Apple is used in one quest:
There are 3 quests that reward Apples:
Ingredients

Fruits
Vegetables
Meats
Other
Crafted Ingredients
Unavailable Ingredients
Ad blocker interference detected!
Wikia is a free-to-use site that makes money from advertising. We have a modified experience for viewers using ad blockers

Wikia is not accessible if you've made further modifications. Remove the custom ad blocker rule(s) and the page will load as expected.